Timehouse helped Kayleigh Töyrä build a new personal brand website full of personality
This collab resulted in a custom WordPress website for Kayleigh Töyrä that combined informativeness, visuality, and storytelling.
Customer and collaboration

Kayleigh Töyrä is a freelance SEO, digital marketing consultant, writer, and translator whose career path has led her from the UK to Finland and back again. 
Kayleigh has worked in the UK as a Creative and Chief Operating Officer for a digital agency, taking ownership for content, recruitment, internal communications, branding, and finance. Currently, Kayleigh works as an SEO and digital marketing consultant and international marketing team lead at Timehouse, specialising in digital publishing.  
Having established a strong professional background in the UK, Kayleigh wanted to find out more about the situation in her other home country, Finland, when she moved back to Helsinki for a stint in 2020. 
In terms of credibility and brand awareness, websites are the calling card of an international digital expert. When entering the Finnish market, Kayleigh felt it was time to renew her old website from a technical, content, and visual point of view. 
Timehouse was able to meet the goals set by Kayleigh and the comprehensive renewal of the website began as a co-creation in 2021. 
How was Timehouse selected as a partner?
Kayleigh Töyrä had been working as Timehouse's SEO and digital marketing consultant for a year or so when the idea of renewing the website came to fruition. 
In her daily work, Kayleigh had already gotten to know Timehouse's work community and personally seen the work of the WordPress development and web team. The goals for the website renewal were important to her on both a personal and professional level, so Kayleigh wanted to carry out the project with a team whose skills and vision she trusted.  

Kayleigh felt that her old website was no longer serving her: it was outdated and technically unsophisticated, using an old WordPress theme with minimal customisation. The previous website was built in 2016 and no longer served her needs. Instead of the old blog-based site, Kayleigh wanted to build a solid personal brand website that would not only contain clear information, but also retain a sense of playfulness in its storytelling.  
The starting point for the project was to change the format of the website from a blog to a website. The content approach was about successfully branding an international SEO expert and translator, but Kayleigh wanted to give Timehouse's team free rein to implement it. The design work started with moodboards that Kayleigh shared with the creative team. Jaakko Myöhänen took charge of the visual elements of the project, and Timehouse's other graphic designer, Sara Kaipainen, assisted him as the project progressed.  
The creative collaboration resulted in several potential versions of the site, all harnessing the versatile features of the WordPress platform. As inspiration the creative team used, among other things, visual cues and markers from the theatrical world. At this stage, Kayleigh felt it was also important to increase the content offering on the website and a "Testimonials" element was created to convey customer and collaboration experiences.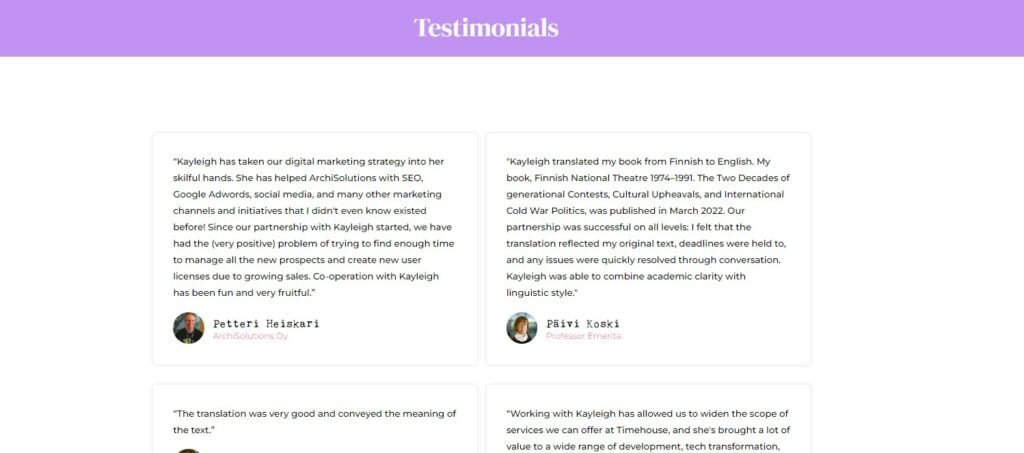 Using the WordPress platform made it possible to implement not only a creative, but also a technically robust and SEO-friendly website. Jussi Päiväniemi, WordPress expert from Timehouse's technical team, helped with the site's migration. 
The project, which lasted about four months in total, produced an SEO-oriented brand website for Kayleigh Töyrä that was visually unique and technically sound. In the end, Kayleigh felt that she had a website that reflected her personality and matched her ambitions.  
Does your website implementation meet your current needs, or is it time to reinvent yourself? Get in touch!

Contact us and we will map out your situation!